Three organisations unite to deliver the largest Eid congregation in Mayesbrook Park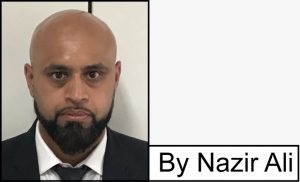 On Wednesday 28th June, millions of Muslims across the globe came together for Eid al Adha prayers to mark the end of Hajj.
Likewise, the Muslim community of Barking and Dagenham and the surrounding areas came together to offer congregational prayers in Mayesbrook Park, Barking.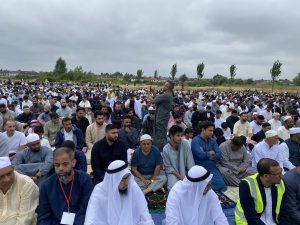 More than 4000 men, women and children came to pray together in one congregational Eid prayer. This year's event was organised by three local organisations: The Barking and Dagenham Muslim Association (BDMA), the Barking Community Forum (BCF), and the Longbridge Bangladeshi Community Association (LBCA).
On the day, people poured in from all directions including the Lodge Avenue entrance, the Clare Garden entrance, and the Westrow Drive entrance.
The volunteers and management teams of all three organisations worked around the clock to make this event a success and a benchmark for future Eid and community events in Barking and Dagenham. More than 60 volunteers were visible on the day since 7am.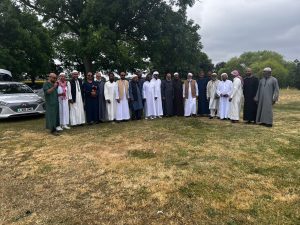 The event was chaired by Shabbir Kawsar of BDMA, and the spokespersons of each organisation were given a few minutes to introduce their own organisation and say a bit about their work in the area. Everyone stressed the 'unity' and 'sacrifice' aspect of this gathering. This included Muhammad Abdus Shahid, Chair of BDMA, Abul Kalam Sheikh, Spokesperson of LBCA, and Yousuf Khan, Chair of BCF.
The imam leading the prayers was Sheikh Ibrahim Khan (of Jamiatul Ummah Madrasah) and his sermon was all about Hajj and the sacrifices for Allah's pleasure and showing gratitude to the Creator.
Also, in attendance from the beginning till the end was Sarah Belchambers, Events Manager, London Borough of Barking and Dagenham to ensure everything was in order and to provide support and guidance.
There were first aiders, first aid box and water supply and a couple of doctors also in attendance to ensure the safety and welfare of the attendees.
Also in attendance was Cllr Saima Ashraf, Deputy Leader and Cabinet Member for Community Leadership & Engagement and Ward Councillor, Faruk Choudhury to meet and greet people at the event. Cllr Ashraf had the podium to say a few words of support and appreciation to the organisers and the attendees. She also prayed along with the women.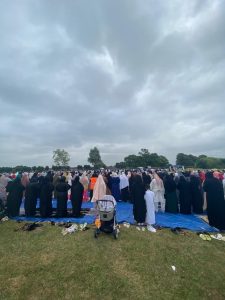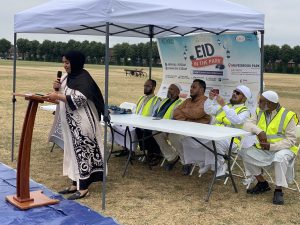 All those who attended thought this was an amazing success. More than 30% of the attendees were women they felt it was organised and executed well. However, in the future, they want to see stalls and activities for children.
The event ended with a bucket collection to cover the costs. The volunteers dismantled everything within an hour and cleared any litter before vacating the park.
Comments from the lead organisers of the Eid in Mayesbrook Park event:
Shabbir Kawsar says "As the lead organiser of the magnificent Eid celebration at Mayesbrook Park, Barking, I am humbled and grateful for the immense support and participation from over 4000 individuals. Together, we created an unforgettable experience, fostering unity, joy, and a sense of community. May the success of this event inspire us to continue spreading love, embracing diversity, and nurturing bonds that strengthen our shared journey. Eid Mubarak to all, and thank you for making our celebration a resounding triumph."
Abul Kalam Sheikh says "As the lead volunteer of this incredible Eid event, I am truly overwhelmed by the generosity, selflessness, and unwavering dedication displayed by our volunteers. Together, we created a tapestry of kindness, compassion, and service that touched the lives of countless individuals. Our collective efforts remind us of the power of unity and the ability to make a positive difference in our community. May the spirit of volunteering continue to inspire us to serve others, not just during Eid, but every day. Eid Mubarak, and a heartfelt thank you to all our amazing volunteers."
Yousuf Khan says "As the lead on safety of the remarkable Eid event, I am immensely proud of our collective commitment to ensuring a secure and enjoyable celebration for all. Through diligent planning, comprehensive safety measures, and the cooperation of every attendee, we created an environment where joy and peace flourished without compromising on safety. Let this success serve as a reminder that our collective well-being is paramount, and may it inspire us to prioritize safety in all future endeavours. Eid Mubarak, and here's to many more successful and secure celebrations ahead".
The management of the three organisations wishes to thank all those who have attended and made this a huge success and a memorable one and hope to work together on other projects in the area. The organisers are collecting feedback which should be emailed to their respective emails:
Organisers; BDMA, BCF and LBCA.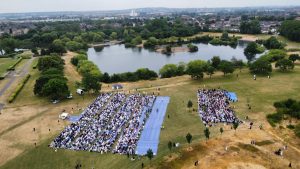 ---