Bangladesh Probashi Kallyan Parishad leads the inaugural NRB Day celebrations in the UK.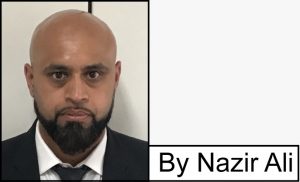 On Friday 30th December at the Impressions Events Venue, Stratford, East London, Bangladesh Probashi Kallyan Parishad (BPKP) members and the dignitaries of the community came together to hail another success and to celebrate the National non-residential Bangladeshi (NRB) Day.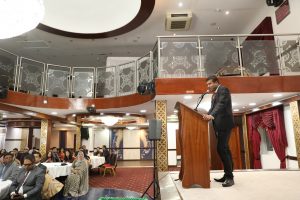 This inaugural NRB Day celebration, also known as the "Jathiyo Probashi Dibosh" was agreed upon by the Prime Minister of Bangladesh, Sheikh Hasina and the Foreign Minister Dr A. K Momen, who was also the Patron of BPKP, on 27th December 2022 announced that the National NRB Day will be on 30th December every year from now on.
This amazing news triggered jubilant celebrations for 13 million NRBs across the globe, mainly in Saudi Arabia, Europe, the USA, and the United Kingdom.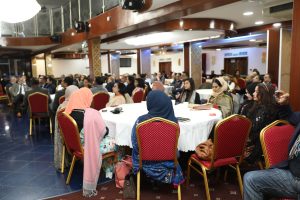 With only a couple of days in between the announcement and the actual NRB Day, BPKP Chairman Ashikur Rahman and General Secretary Mayen Uddin Ansar, in consultation with the advisors and the Executive Committee decided to go ahead with the NRB Day celebrations on 30th December 2022. The event was sponsored by many of the members and some local businesses and organisations.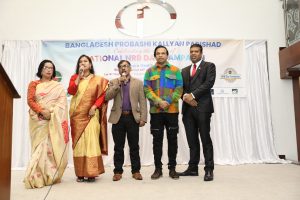 On the NRB Day celebrations, the chief guest in attendance was Her Excellency Saida Muna Tasneem, the High Commissioner of Bangladesh in the UK to directly deliver the news from Bangladesh and cut the celebratory cake and share it with all those in attendance.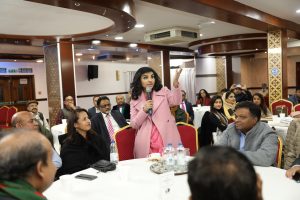 The event was hosted by Mayen Uddin Ansar, and the opening was with the Qur'an recitation, followed by the singing of the Bangladesh national anthem and then short keynote speeches by Ashikur Rahman and by various dignitaries and executive members including a video message from Dr A K Abdul Momen.
Short celebratory messages from guests in attendance including Mr Kays Chowdhury, Mr Shahagir Bakth Faruk (Chief Advisor BPKP), Mr Sami Samiullah (Advisor, BPKP),   Muhibur Rahman Muhib (Advisor, BPKP), Ayesha Chowdhury (BPKP), Dr Zaki Rezwana Anwar (Channel S), Emdadul Hoque Chowdhury (President, London Bangla Press Club), Taysir Mahmud (Secretary, London Bangla Press Club), Mr A Z M Sharif Hossain (First Secretary, Passport & Visa), Jahangir Khan (Senior Vice Chair, BPKP), Abdul Halim Choudhury (Treasurer, BPKP), Shah Mumin (International Affairs Secretary, BPKP) Parvez Qureshi BEM (BPKP), Cllr Foyzur Rahman (BPKP), Manikur Rahman (BPKP) and Joynal Khan (BPKP) to name a few.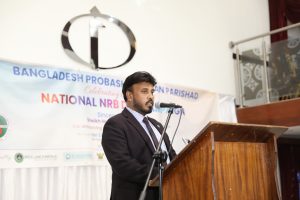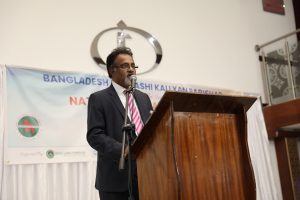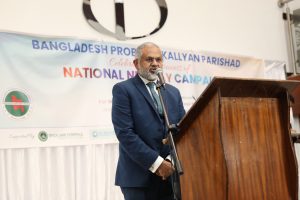 "This is a tremendous achievement!" Said Ashikur Rahman, Chairman of BPKP. "After more than 5 years of our campaign, we are now seeing the fruits of our labour.
"Billions of dollars of remittance, commerce and trade take place in Bangladesh from the 13 million NRBs across the world and it is only right that we get recognition for this!" He added.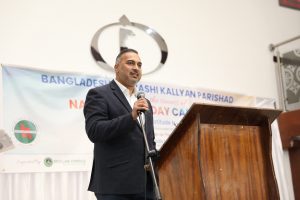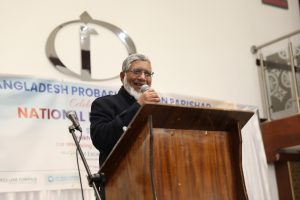 The NRB Day of 30th December will now be a date in the Bangladeshi calendar and will also take place in Italy and the US.
A cake-cutting ceremony also took place with H E Saida Muna Tasneem and was shared amongst all the attendees.
The event at Impression Events Venue was also made possible by the sponsors who responded at very short notice, and they were BPKP members and Brick Lane Funerals, AF Accountants, Naz Group, Rainstone Money, Prime Estate Agents, Silver Service, Angel Group, Hillside Travels, NRB Holiday Resort, and Bangladesh Regeneration Trust UK (BRTUK).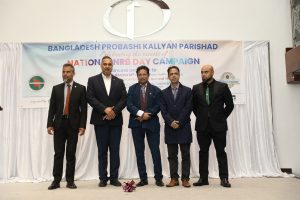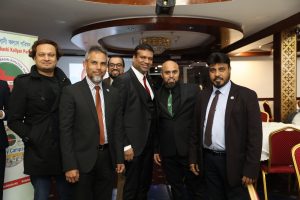 BPKP is a campaign organisation working for the betterment of the non-residential Bangladeshis in the UK and Europe. BPKP is working with the Foreign Minister to get a globally recognised NRB Celebration Day, as well as resolving the airport harassment issues, National ID Card and the "Save Our Property" campaign amongst other things. Should you wish to get involved and become a member please contact Mayen Uddin Ansar at thebpkp@gmail.com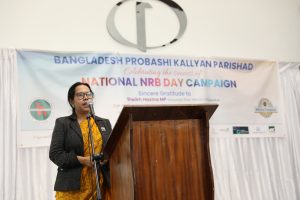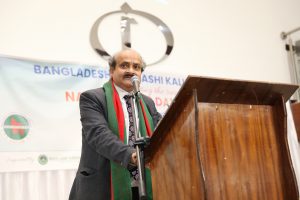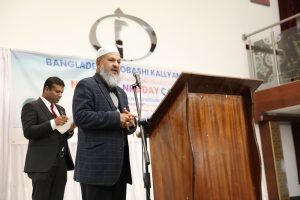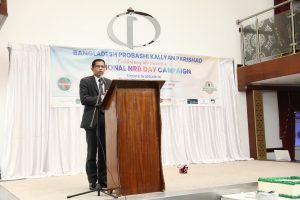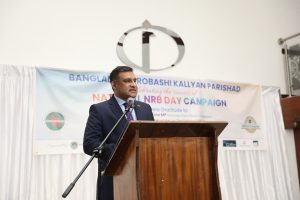 ---