Muhibur Rahman, first elected mayor in Biswanath, comes to the UK with a wish list.
Former two-time Upazila parishad Chairman, Muhibur Rahman, who was elected as the mayor in the first election of Sylhet's Biswanath municipality on 2nd November 2022, left Biswanath on Friday 2oth January for his first trip to the UK with a long wish list for the Biswanath NRBs and well-wishers across the UK.
On Monday 23rd January, at 7pm, a Grand Reception was organised at the Impression Events Venue, Milner Road, Stratford, London E15 3AD. The organisers were Sajjadur Rahman, Nazrul Islam BEM, Monir Ahmed and many other Biswanath-origin, community champions.
About 300 people gathered at the venue, including many dignitaries such as Shafi Ahmed, the Speaker of Tower Hamlets, Cllr Sirajul Islam, Monir Uddin Bashir, Luthfur Rahman, Mujahid Ali Liton, Mizanur Rahman, Faizul Hoque,  Barrister Abdul Malik, and Ahbab Hussain (ex LBTH Speaker) to name a few.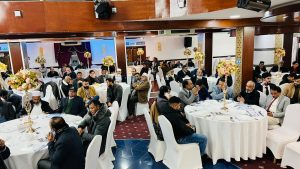 It was a long evening. However, everyone waited anxiously to hear from the chief guest. And when the time came, they weren't disappointed.  Muhibur Rahman went with a 5-year mandate and his primary focus was on the education and empowerment of women. His long wish list included:
Founding of the first women's degree college in Biswanath.
Establishment of 5 Girls-only High Schools within unions of the municipality.
Creation of a Press Club/Media Centre.
Founding of a Biswanath History Museum.
Creation of a Zakat Fund for the poor.
Establishment of a Sports Stadium.
Launch the Mayor's Football Tournament.
Launch the Mayor's Badminton Tournament.
Launch the Mayor's Cricket Tournament.
Various organising committees will be set up in the coming days to lead in each aspect of these projects. For example, to seek the land, the location and the donors of the degree college.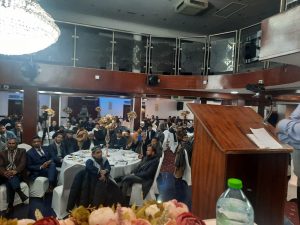 "These are legacy projects and can be done in your own name or on behalf of your family members and I will oversee all these projects to ensure check and balance." Said Mayor Rahman.
"We need to have all these institutions to showcase Biswanath as a model municipality. And need everyone one of you on board.
I will go to all the areas with high Biswanath NRBs such as Bradford, Oldham, Rochdale and other places to meet people and make requests." He added.
The networking event ended with various photo sessions with the Mayor. He went round the venue, meeting attendees whilst a sumptuous dinner was being served from Silver Services.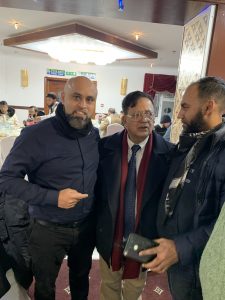 ---