Ramadan Daily Dose: The Qur'an and Your Child's Academic Studies
Day 10
By Shofi Ahmed 
Mind Map For Academic Teachings of Surah Fathiha.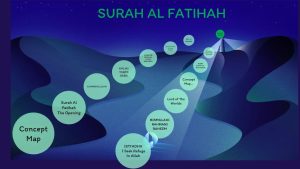 Surah Fathiha, the opening chapter of the Holy Quran, is a fundamental component of Islamic prayer and worship. While its religious significance is widely acknowledged, the Surah also contains a wealth of academic teachings and insights that are relevant to contemporary education and learning.
The Surah advocates for a holistic approach to education that encompasses intellectual, spiritual, and moral development. Its teachings encourage critical thinking, reflection, and inquiry while emphasising the importance of seeking knowledge, balance, and guidance from Allah SWT. In this context, the mind map presented below highlights some of the academic teachings found within Surah Fathiha, and how they can be applied in modern academic settings.
This mind map includes the importance of seeking knowledge, the concept of Tawheed (Oneness of Allah SWT), the value of critical thinking and reflection, and the need for balance in academic and personal life. It also emphasises the significance of patience and perseverance in academic struggles and the importance of seeking guidance and wisdom from Allah SWT.
Academic Teachings of Surah Fathiha
|
Importance of seeking knowledge
|
The concept of Tawheed (Oneness of God)
|
The importance of intention in academic pursuits
|
The value of critical thinking and reflection
|
The need for balance in academic and personal life
|
The significance of patience and perseverance in academic struggles
|
The importance of seeking guidance and wisdom from Allah
---