BCF held their inaugural football tournament in Mayesbrook Park
On Sunday 17th September, Barking Community Forum (BCF) held its inter-BCF football tournament in the Mayesbrook Park, Barking, supported by the Hedgecock Community Centre (HCC).
It was only a few months ago that BCF decided to deliver football in Barking and Dagenham, and trustees Anwar Miah and Talib Uddin were tasked to bring together the young and the old through football on Sundays in Mayesbrook Park.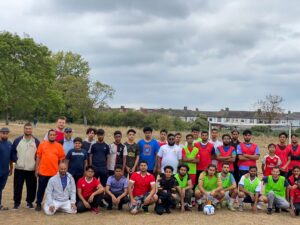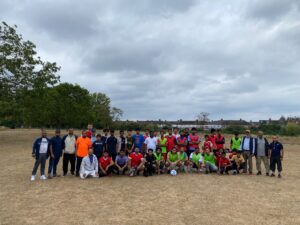 This Sunday "kick about" team has come a long way since their formation; almost winning the Muslim Community Association (MCA) tournament in June to now hosting its own tournament among its vast cohort of talented players.
On the day, the weather was typical British and very unpredictable with rain forecasted for after midday. However, the teams and the crowd were in good spirits.
Four teams battled it out in front of guests, including the local Ward Councillor, Faruk Chowdhury and BCF Chair, Yousuf Khan. There were lots of food and drinks for all. Dates for all the players and spectators were provided by local resident Ashraful Islam.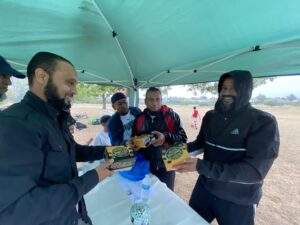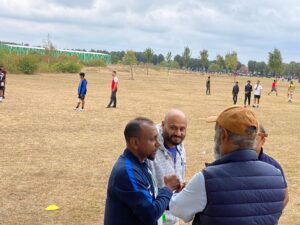 The rain came as predicted. However, each team battled on. Team Nabil and Team Shahmir were in the final. They played for 10 minutes each way, and nothing could separate the two. Both teams had really talented individuals, gelling well as teams. It ended up 0-0 and went to a penalty shootout. Both teams had good goals and very good saves from their keepers. Ultimately, there had to be a winner and it was Team Shahmir, winning it 3-2 on penalties thanks to their spectacular goalkeeper and subsequent, Man of the Tournament, Hassan.
"Our first tournament and everyone played really well here in Mayesbrook Park," said Anwar. "Next year we want to invite others and host a much bigger tournament in Barking!" He added.
Talib Uddin added; "We provide a safe space for everyone. Please come and join us every Sunday, 12:00 noon, at Mayesbrook Park."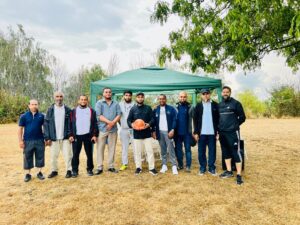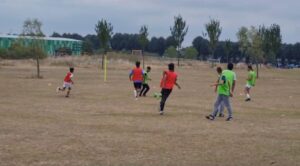 The trophy presentation ceremony was led by Yousuf Khan and the BCF Management Team. He said "BCF football group have come a long way since it started playing in the park. We will continue to find resources and sponsors for the team to grow further and compete in tournaments in Barking and other boroughs."
The guest, Councillor Chowdhury gave out the Man of the Tournament award to Hassan, and the Champion's Trophy to Team Shahmir, and said, "A special thanks to BCF for hosting this event in my ward. I am always here to support BCF and find funding opportunities for our local young people to develop, stay active and compete at different events in Barking and Dagenham and elsewhere."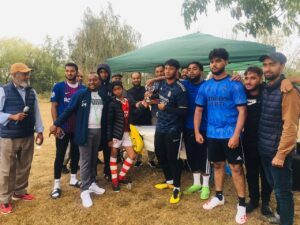 A very sumptuous chicken biryani with dhal from Eastern Pride was served to all the players, participants and spectators.
Barking Community Forum is a faith-based community organisation serving the spiritual and social needs of the residents of Upney and the surrounding areas. BCF delivers the Friday prayers from HCC and has the vision to provide a permanent prayer space for residents. Further information can be found on social media and via barkingcommunityforum@gmail.com
#BCF #BarkingCommunityForum #FootballTournament #Mayesbrook Park
#BanglaPost
---